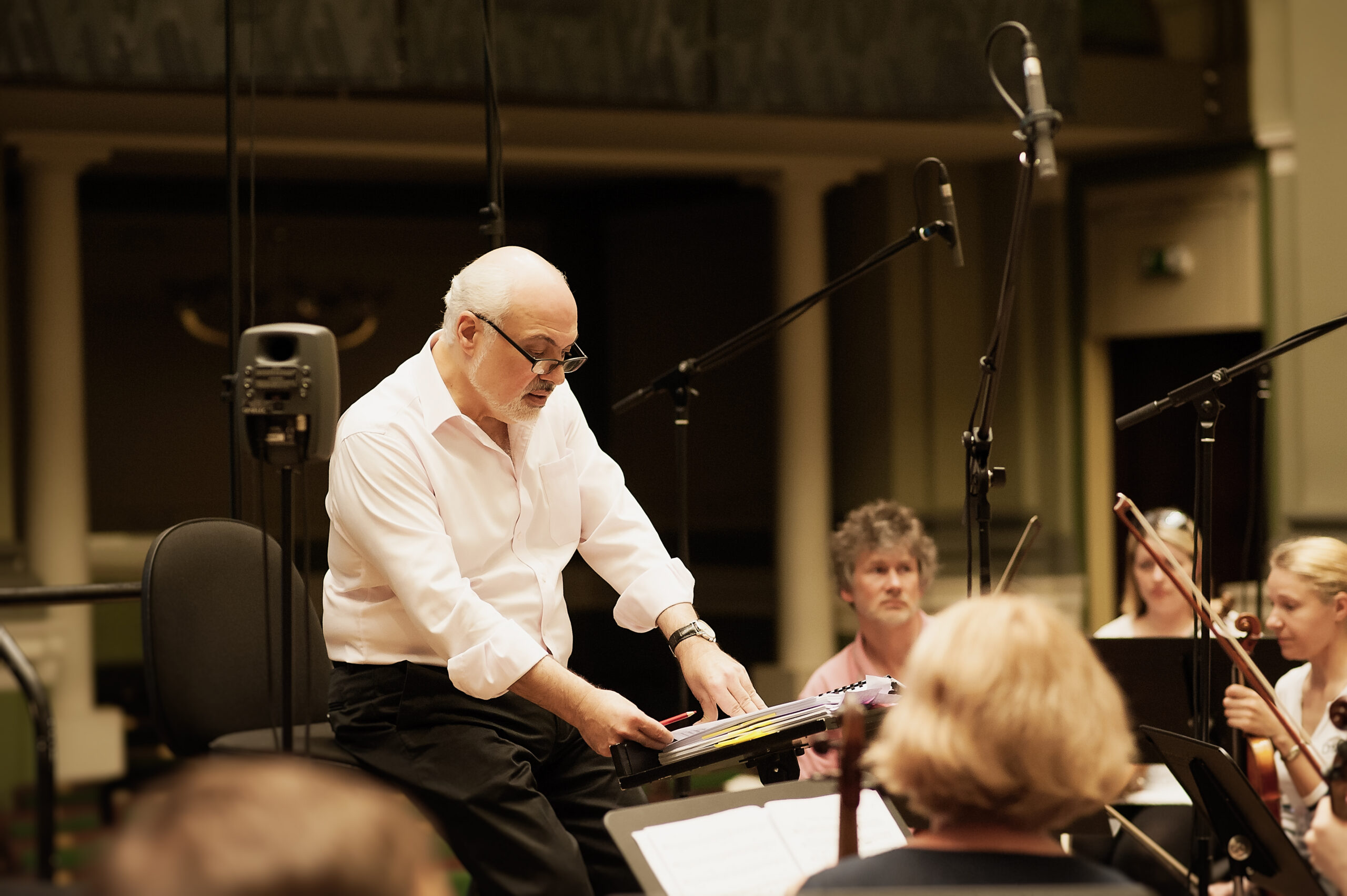 Fanfare Interview with Henry Fogel
Interview from the Fanfare Archive. Italics are Questions from Henry Fogel:
When I look at the totality of your work, you strike me as a conductor equally at home in the worlds of operatic and symphonic music. Although historically that was the case for the majority of conductors in the 19th and first half of the 20th centuries, in more recent times it seems to me that the music "business" has tended to typecast conductors in one or the other of those worlds. Clearly that is not 100 percent true, as conductors like James Levine and Yannick Nézet-Séguin demonstrate. But you are one of the few conductors I can think of who seem equally at home in the music of Bellini, Donizetti, Tchaikovsky, Shostakovich, Brahms, Mozart, and Prokofiev, and equally at home in the pit of an opera house or on stage of a symphony orchestra's auditorium. How did you develop that wide range of musical interests? Also, speak a bit about how each informs the other—how conducting opera informs your symphonic conducting, and vice-versa.
I've been so incredibly lucky to have been exposed while growing up from a very young age to both the San Francisco Symphony and San Francisco Opera. Of course, touring as a pianist also gave me a lot of exposure to working with various ensembles and orchestras. One of my piano teachers in NY, Nina Svetlanova, was a top collaborative pianist in Moscow. She was one of the top coaches at the Bolshoi and her first husband was the great conductor Yevgeny Svetlanov. She basically taught me the "art of accompaniment" from art song (mostly Russian) to all of the opera arias. When she emigrated to the USA in 1975 she was Galina Vishnevskaya's accompanist and also worked with Nicolai Gedda. So, I had first-hand experience of witnessing that collaborative effort not only in the rehearsal room, but on the stage, as I was lucky enough to turn pages for Mme. Svetlanova at many of those concerts. At the same time, I was studying conducting in NY and was always thinking in the back of my mind that it would be something that would "come in handy" at the right time.
After my graduation from Juilliard I was taken on the Columbia Artists roster as a pianist. There I had the opportunity to play over 1,000 concerts in the USA, Canada, and in various parts of world, and was introduced to the art of making a recording when Neeme Järvi invited me to record the Khachaturian Piano Concerto with him in 1986 with the Royal Scottish National Orchestra. On one of my tours of the USSR, I met the well-known Russian violinist Andre Korsakov, who had just been appointed the music director of the State Chamber Orchestra of the USSR. Formerly this ensemble was the Moscow Chamber Orchestra, which was formed in 1956 by Rudolf Barshai. Korsakov heard me perform and invited me to play the Shostakovich Piano Concerto No. 1 with his orchestra in December of 1990. We made a subsequent recording and shortly after that he passed away. The orchestra signed a petition and sent it to the Minister of Culture of Russia, and I was invited to become the music director of the State Chamber Orchestra of the USSR in March of 1991.
Just at the same time, I met the amazing conducting teacher Ilya Musin, who taught many generations of conductors, including Valery Gergiev. Working with him and listening to his lectures and classes opened an entire world of repertoire and styles, and basically taught me how to communicate my thoughts to the musicians. It was one of the happiest musical experiences of my life.
Then, of course, meeting Dmitri Hvorostovsky changed by life dramatically—giving me the opportunity to work with one of the great vocal artists of the 20th–21st centuries, and also an incredibly generous and giving human being. His friendship and his trust in me as a collaborator was a huge gift, and still is. Additionally, thanks to him I had the honor of performing and recording with Renee Fleming, Sondra Radvanovsky, Ildar Abdrazakov, Barbara Frittoli, Stephen Costello, Stefano Secco, Nadine Sierra, and many others.
At the same time I had started working with the great American recording label Delos. Both Amelia Haygood and Carol Rosenberger were excited to begin recording in Russia, as they had wanted to do that for a long time. So, here was an amazing opportunity for us all. Dmitri Hvorostovsky seamlessly went from Philips Classics to Delos and we began an amazing journey, recording everything that Dmitri had wanted to record. I am very thankful we have that extraordinary treasure trove of recordings with the late, great Hvorostovsky.
We all know, of course, the difference between performing a symphony and performing opera or accompanying. One is where you only need to listen to your own mind, heart, and soul and the other is where you need to listen to the soloists and chorus and to be very conscious of the staging and everything else which goes on during an opera. In conducting operas or working with soloists, I give them all of the time they need to express themselves to the fullest, and when conducting symphonic works, I always try to make the melodies sing as if they were being sung by one of the great operatic soloists I have been privileged to work with.
When deciding to record I puritani, there are a number of editorial decisions that you have to make, regarding cuts and regarding the ornamentation singers might add. How did you go about this process?
Actually, it was Lawrence Brownlee and Sarah Coburn who wanted to do the opera without most of the usual cuts, and I was very happy to oblige. It wasn't easy to put all of the pieces together and to get everything organized, but, thank goodness all of my colleagues were able to help and we have the result which we have.
I'll admit to being a vocal junkie, so when I got the discs the first place I went to was to "Credeasi, misera" to see whether Lawrence Brownlee would attempt the high F. Not only did he attempt it, and hit it, but it is the very first example in my experience of a tenor managing that note and having it sound like an actual musical note, not some strangulated yelp. What was your reaction when you first heard that?
I have to say that when I first heard Lawrence Brownlee at the Met with Renée Fleming singing Rossini's Armida, I almost fell out of my chair. I honestly have never heard singing like that. At the reception afterwards, I asked Lawrence which aria recordings he has done—when he mentioned that he didn't have any, I jumped on the case. We recorded the very next season and our Rossini Arias recording was nominated for a Grammy. So, I knew that this man can do no wrong. So, getting back to your question—I was expecting that Lawrence could do anything he sets his mind to do … which is exactly what happened. He has the most amazing vocal technique and the most beautiful, expressive timbre in his voice, not to mention his extraordinary musicianship. Not only I but the entire orchestra was bowled over when he sang that high F—and as you can imagine, when recording, we did a couple of takes. Each time it was sheer perfection.
When conducting an opera like I puritani, it seems to me that you have to find a very delicate balance. On the one hand, you must give the singers the freedom to shape the music in the way that they wish. But on the other hand, you have to establish a unity of conception from beginning to end, and to assure that the music doesn't go limp because you have yielded too much to the singers. It strikes me that you found that balance in this recording, but could you speak about the process of achieving it?
Here is where my pianistic and symphonic experience comes in. Additionally, when I was working with Nina Svetlanova she taught me that very fine line of allowing for the singers to take time and then to "move things along" when the piano has its solo section or the orchestra has the tutti between each of the verses. In recording an opera one most certainly doesn't have the luxury of doing it from beginning to end, as you would if you were recording a symphony large symphonic/choral work. So, one has to constantly keep in mind the mood which you need to achieve in each of the sections, while maintaining the forward movement and to constantly see the whole picture. I can't tell you exactly how this is achieved; when you have a very mobile and attentive orchestra and chorus, that of course helps, and the Kaunas City Symphony Orchestra and State Chorus are marvelous. Thankfully they both have extensive experience in performing operas and operatic excerpts.
I'd like to explore your career beyond this recording of I puritani. You have recently been appointed music director and principal conductor of the New York City Opera. That organization has had a troubled recent history, and you are part of the leadership trying to reestablish it as an important component of New York City's musical life. How did your appointment come about, and what steps are you taking to help revive the company?
I'm thrilled to be a part of the NYCO renaissance. I truly believe that NY needs a second viable opera house. A springboard for young artists, a place where young composers will have an opportunity to premiere their works, where singers can hone and refine their craft, where young creative directors will be given a chance to work and experiment. Scrolling back to earlier days at NYCO, we know that artists like Beverly Sills, Renée Fleming, Shirley Verrett, José Carreras, Plácido Domingo, Catherine Malfitano, and Rolando Villazón along with many, many others, were given their first chances at NYCO. We all know how their careers progressed. Composers such as William Grant Still, Carlisle Floyd, and many others had their operas performed for the first time at NYCO.
I intend to continue that legacy. For instance, in January 2022, we'll do the world premiere of Ricky Ian Gordon's Garden of the Finzi-Continis in January as a co-production with the Jewish Heritage Museum and the Yiddish Folksbiene in NY. We have commissioned an opera based on the Love Letters of Nicholas and Alexandra from composer Artem Vassiliev, which will be ready in a couple of months, so that premiere is set to take place in the fall of 2022. Because of the uncertainty of the COVID situation, we will be doing outreach this fall, doing school concerts and mini-productions of Rossini's Cenerentola and Il barbiere.
Hopefully we'll see how things go in the fall and then we can begin thinking about larger productions. We have around 10 productions in our warehouse that have not been performed. These were co-productions with various theaters around the world. Among the operas worth mentioning are Mascagni's Isabeau, based on the story of Lady Godiva. This was a co-production with Holland Park Opera in London. There is also a gorgeous Mozart Idomeneo, which was a co-production with San José Opera; the NY premiere of The Central Park Five by Anthony Davis; and the return of other wonderful productions which we own.
You have also been chief conductor of the Kaunas City Symphony Orchestra in Lithuania. You have brought that orchestra to the world's attention through many excellent recordings. Could you speak about your relationship with that orchestra, and how it has developed into an internationally known ensemble?
I was invited to conduct a concert in Kaunas with Dmitri Hvorostovsky in September of 2012. I asked for an additional rehearsal with the orchestra, as I didn't know too much about it, except for the fact that I knew that the orchestra existed. I was very happily surprised when I went into the first rehearsal and the orchestra played everything beautifully. Not only were the overtures prepared to a very high level, the players seemed to be very agile and adept to accompanying vocalists. As I later found out from the orchestra's GM, Algimantas Treikauskas, they were very used to working with singers because they were on a weekly TV show where young singers were being presented. So, their sight-reading ability and general "give and take" following singers was excellent.
Shortly after that concert, Mr. Treikauskas asked me if I would be interested in being the principal conductor of the orchestra. Of course, I was very happy to accept the position, as I had left the Moscow Chamber Orchestra in 2009. From the first recording we made with Lawrence Brownlee in April of 2013, I knew that this ensemble had a great future, and that we and our excellent recording engineer, Vilius Keras, and his company, Baltic Mobile Recordings, were going to be a very happy family together. After making three Grammy-nominated recordings and 15 recordings in total, I think that from relative obscurity, the Kaunas Orchestra has become a highly regarded ensemble. The orchestra musicians and of course the Kaunas State Chorus are totally dedicated to excellence, and it is a great pleasure to be associated with these wonderful musicians.
We had been booked for a tour of 30 concerts in January–February 2021 by Columbia Artists Management. Sadly, due to the COVID issues and the demise of Columbia Artists Management, the tour was cancelled. Hopefully, at some point, we'll be able to tour the USA again. Incidentally, the Kaunas orchestra was the first Lithuanian orchestra to be invited to tour the USA.
You also had a major career as a pianist, with your recording of Khachaturian's Piano Concerto with Neeme Järvi conducting was universally praised. At this point, do you still maintain a solo career?
I was thrilled to be asked by Maestro Neeme Järvi to record the Khachaturian Piano Concerto. It was an amazing experience working with the Royal Scottish National Orchestra and Maestro Järvi (whom I had met back in 1979, when he was conducting Eugene Onegin at the Met), and subsequently to tour with the orchestra around the UK. After I moved to Moscow and was working with the MCO, I was playing piano concertos with the MCO when we were on tour- Bach, Mozart, Shostakovich, Schnittke were the ones I performed most often. I am always practicing and hopefully will be performing again soon with some of my wonderful singer friends.
Lithuania was the first former Soviet state to officially establish its independence after the collapse of the Soviet Union. Most readers of Fanfare probably have little familiarity with the country. But you are an American who has been working there for over 20 years, if I'm not mistaken. Describe for us, if you don't mind a non-musical question, what life is like there, and what their artistic climate is like.
Lithuania is a wonderful country with a highly educated and musically aware public. The National Opera and Vilnius City Opera are stunning examples of artistic achievement and excellence. As in most European countries, the state supports the arts in Lithuania, and the singers which those countries have produced are on the major opera stages. These include Violetta Urmana, the late tenor Sergey Larin, the wonderful baritone Kostas Smoriginas, the excellent tenor Edgaras Montvidas and of course the superstar soprano Asmik Grigorian, who has become the toast of Salzburg and more recently of Bayreuth. Thankfully we have a recording with Asmik and Dmitri Hvorostovsky singing the final scene from Rubenstein's opera The Demon. Additionally, I was bowled over with the opera director Dalia Ibelhauptaite, who is truly brilliant and innovative. Her many projects with Vilnius City Opera have proven that opera can be accessible and sought after—not only by an older public, but also by a younger generation of opera lovers. We are planning some very interesting projects together with New York City Opera.